About Me and My Room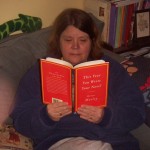 By day, and sometime nights and weekends during busy season, I work as a corporate tax consultant in Indiana. My room is being moved from my childhood home in New Jersey to Indiana.  It is where I pursue my passions – my family of stuffed animals, my love of all things Disney fueled by my husband's and my semi-annual trips to Walt Disney World and trips to Disneyland for all my "landmark" birthdays (I am exactly one month younger than Disneyland. You can google this event and figure out how old I am.) My room is also filled with children's books, the Betsy-Tacy books by Maud Hart Lovelace, the Shoes books by Noel Streatfeild, the Adventure books by Enid Blyton and countless others. I also have shelves of self-help books and a shelf of my absolutely favorite books. My room is also overrun with my hobby of scrapbooking which is also, at times, a hobby of collecting scrapbooking supplies. My room is where I spend quiet time drinking warm coffee milk in the morning, write in my journal and hope to write my first novel.
I hope you will enjoy exploring my room and seeing the other side of Cheryl.