Archive for the 'Random Musings' Category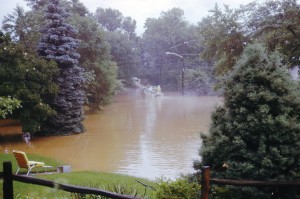 On August 2, 1973, there was a deadly flood in my hometown of North Plainfield, New Jersey. Our house (now my house) was not flooded or damaged, but the major road at the end of my street was flooded to such a degree that people had to be rescued from their homes in boats.    My family and I walked down our street to look at the flood and my father took pictures of the boats and my mother, my sister, and me, in a crowd of people who were also watching the devastation.   On the fortieth anniversary of the flood, August 2, 2013, I posted the pictures to a Facebook page where people share memories of our town.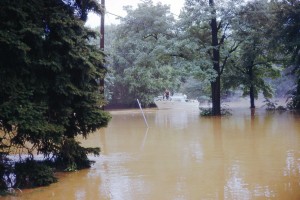 People quickly began commenting on my post.   "I can't believe it's been forty years."   And they shared memories of where they were and how their homes, families, and neighbors had fared.   Classmates of the 15-year old boy who drowned in the flood that day posted heart-breaking remembrances.  I wondered if I should have posted the pictures as they brought back such sad memories. One person posted how his family had lost their car and his father took the two license plates into the auto dealership and said "Now put a car between them."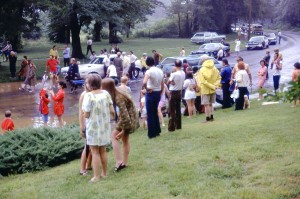 And then the memories became more personal, in a way that they never would have been before social media.   My sister commented that it must have also been mosquito season as the photo had captured her scratching a bite.  And then someone posted her shock that I had a picture of her in-laws and their dog on that day.   She shared the story of how they had been rescued by boat with the dog carried in a tote bag.  And there was the dog, and the tote, and the strangers in the photo were no longer strangers.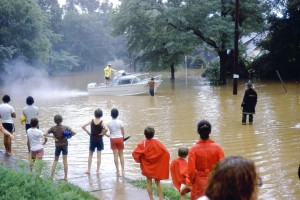 "Those are my kids in the orange jackets" exclaimed another.   And I imagined him sharing the pictures with his now adult children who might not otherwise have had a picture of them on that day.  Another said that her brother, who had died fifteen years later, was the boy with the hand on his hips, standing with his best friend.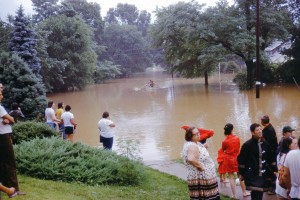 "That's my grandmother in the flowered dress" exclaimed yet another person.   Another person posted the name of the fireman standing guard. My father had taken pictures of my mother, my sister, and me, along with a crowd of people who had also gathered to see the flood and the boats.   But now they were no longer photographs of strangers, every person in the pictures had a story, accidentally captured on film by my father, and through the wonder of social media now had names. They are all forty years older, some have since died, but on that day they gathered together and and are now documented forever on Facebook.
I had lunch with Robyn in February. She worked as an attorney at the corporate headquarters of my company and I looked forward to seeing her on all of my regular visits to the corporate center. Over lunch we rarely discussed work. Instead I learned about her family, her pets, her dating experiences, and the disadvantaged girl she had been mentoring for two years, advising her on classes, prepping her for SATs, reviewing her college admission essays, and helping to bring some normalcy to her troubled family life. I remember how proud she was when her mentee had been accepted at several colleges.
Two weeks later I was back at the corporate center attending a tax conference. Robyn had been one of the co-organizers of the event. She was filled with enthusiastic energy, especially about the team building scavenger hunt she had designed where our teams traveled to all parts of the corporate campus reading plaques and signs we might otherwise have passed by.
Two weeks later I heard that she was on medical leave. Robyn had been diagnosed with melanoma. We signed cards and contributed to gifts and celebrated the promotion she received while she was out on leave. I knew that melanoma was deadly but we both worked for a large pharmaceutical company with a strong oncology division. Surely that would somehow protect Robyn and help her to beat the odds.
Just three months later, on fathers' day, Robyn passed away. She was only 34. Her obituary listed not only the relatives who predeseased her and by whom she was survived but all her beloved pets both alive and dead. She told her family that she didn't want a funeral but a party at a later date to celebrate her life.
And there was a lot to celebrate in her 34 years. Memorials flooded the guest book from all the many people she had touched. In addition to memorials from cousins and childhood friends and colleagues, there were memories from the staff at her doctor, from the real estate agent who had given her her first tour of Indy, her landlord who had never met her in person but only on the phone, from her volleyball team mates. Everyone mentioned her smile, her cheerfulness, her devotion to her family, and her passion for making the world a better place. Like me, they all knew Robyn as a special person, even if they had only known her for a brief period of time.
Yesterday I learned something that Robyn would probably never have told me because she never bragged. In addition to mentoring the young lady for two years, Robyn paid her tuition for her first year of college. Following Robyn's example her family is establishing a scholarship fund in her name to help other disadvantaged students.
Quoting from Stephen King, "Some birds are not meant to be caged, that's all. Their feathers are too bright, their songs too sweet and wild. So you let them go, or when you open the cage to feed them they somehow fly out past you. And the part of you that knows it was wrong to imprison them in the first place rejoices, but still, the place where you live is that much more drab and empty for their departure."
My world is certainly more drab and empty without Robyn and her contagious enthusiasm and smile.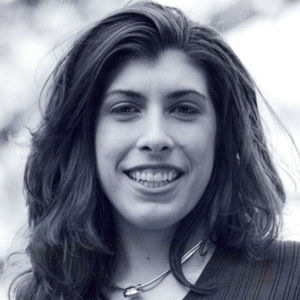 Quote of the Moment:
"Good writers define reality; bad ones merely restate it. A good writer turns fact into truth; a bad writer will, more often than not, accomplish the opposite."
by Edward Albee