Archive for May, 2010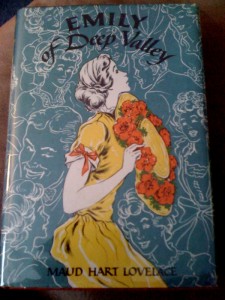 As my neighbors set up for their annual Memorial Day party, I started on my own Memorial Day tradition of rereading Emily of Deep Valley by Maud Hart Lovelace.   It's my favorite of all the Betsy-Tacy books, set in the early 1900s in Deep Valley, Minnesota, based on the town in which the author grew up, Mankato, Minnesota.  Of all the characters in the series, Emily is the one to whom I most relate.   Emily is an orphan who has just graduated from high school but is not going off to college with the rest of her crowd in order to stay with her grandfather who has raised her since her grandmother died.   The book begins and ends with Decoration Day, with Emily decorating the graves of her parents and grandmother, the first time alone and at the end of the book with her new beau.   At first, Emily is depressed that high school has ended and her friends have left her behind.   But  she musters her wits and creates a wonderful life for herself, embarking on number of projects that leave her no time to be depressed, including reading about Abraham Lincoln and the Civil War with her grandfather (a Civil War veteran), taking dancing lessons, forming a group to study Robert Browning, creating a club to help Syrian children be accepted by their American classmates, teaching their Syrian mothers English in her parlor and successfully petitioning the school board to provide citizenship preparation classes for the Syrian community.
The book has a special meaning for me this year as my own parents both died in May, my father 23 years ago and my mother two weeks ago.   I am also at a crossroads in my life deciding how I want to create my future.   And so, like Emily, I am mustering my wits and starting to plan my future,  drawing upon her courage to inspire me along the way.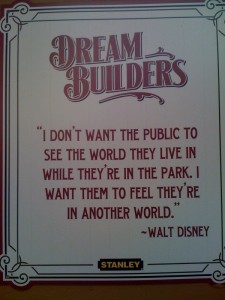 Our vacation is winding down, and the return to our daily lives gets closer and closer.   Although I am always glad to be home, in my own bed, I wish I could bring more of the Disney Magic home with me – the friendly cast members, the fantasies, the life in a world where people are kind and work to make each day of ours as special as possible.   All of the construction sites at Walt Disney World have signs on them with quotes from Walt Disney.   Last night, I saw this one that struck my fancy.   Disney has certainly succeed in achieving this goal; when I am here the challenges of my daily life seem so far away and less important.   If only I could create this world for myself when the Pixie Dust is no longer there.
Quote of the Moment:
"I have no objection whatever to your representing me as a little eccentric, since you and your learned friends would have it so; only don't set me on in my fury to burning hearthrugs, sawing the backs off chairs, and tearing my wife's silk gowns... Had I been numbered amongst the calm, concentric men of the world, I should not have been as I now am, and I should in all probability never have had such children as mine have been."
by Patrick Brontë