Archive for May, 2013
Abercrombie & Fitch doesn't sell clothing in XL or XXL sizes. If they want to lose out on a market of potential customers, so be it. My 6′ 4″ husband knows he can't find clothes in "regular" stores and shops at Big & Tall stores. I'm 5′ 2″ and not thin and I have found which stores carry petite in larger sizes. If that was merely the issue, there wouldn't have been the public outcry against the retail chain this week. The outcry was due to the company's CEO Mike Jeffries explaining that he purposely excludes larger size girls because he only wants "cool" attractive, popular, All-American kids to be seen in his clothes. And apparently this alleged group of kids are all of the size that he carries in his stores.
I've read several open letters to Mike Jeffries from women who did not fit that image when they were in high school. They expressed the pain that girls feel when they are bullied because of their size, or any other difference. The letters were eloquent and moving and there is no way I could add to them. So I'm not addressing my comments to Mr. Jeffries; frankly I don't want to talk to him at all. Instead my remarks are for girls everywhere.
Not being a certain size, or "All-American" (whatever that means), or not having lots of friends who are the the same size and have the same looks as you does not mean you are not cool. It does mean that you may not fit into the sizes offered by one rather nasty and narrow-minded retail chain. Fitting into those sizes and wearing that brand does not make you cool. It does mean that you happen to conform to the image of an adolescent body that a 69-year man envisions as wearing his clothes. That sounds more creepy than cool to me. That's what happens when you let your self-image be dictated by a bully.
Being thin does not mean that you are cool. Cool kids come in all shapes and sizes, some thin, some not, some American, some not. I think smart girls are cool. They go on to discover new things, to be leaders of their generation. Does anyone know what size Madame Curie was? I don't, but I know she earned two Nobel prizes. How cool is that? Does anyone know what size J.K. Rowling wears? Does anybody care? What matters is that she wrote wonderful books and got a lot of children reading and using their imaginations again. That's cool to me. That she became one of the richest women doesn't make her cool, but the fact that she fell off some lists of rich women because she donated so much to charity. Now that's cool.
A friend of mine's daughter heard about Mr.  Jeffries's cruel and bigoted comments and declared that she was going to get rid of her Abercrombie and Fitch sweatshirt. Taking a stand against a bully like him was cool, far more cool than the fact that she can indeed fit into his clothes. Courageous girls are cool. West Virginia high school senior Katelyn Campbell stood up to her bully principal by protesting an "abstinence only" sex education seminar which she describes as "slut-shaming" in spite of his threats to report her "bad character" to the college where she had already been accepted. That was way-cool. And none of the nation-wide articles about her mentioned what size or brand of clothing she wore.
The celebration of the arrival of Friday isn't the same when I am on vacation. Then it means that the vacation that my husband and I counted down the days since our last vacation is coming to an end. Only one day remains to enjoy the EPCOT Flower and Garden Festival, to eat at our favorite restaurants, to experience the magic of the Magic Kingdom, to go behind the scenes at Disney's Hollywood Studios, to relax in our villa.
Usually, by the end of vacation, I am ready to go home, no matter how wonderful, fun, and relaxing it is. I look forward to being back in our house, in our own bed, ready to start counting the days until the next vacation. This time, however, I am returning to an uncertain future. If I stay with my company and move to Indiana, will this be the last time I return from vacation to the house I love so much? At the Flower and Garden Festival, I found many ideas for our yard. But where will that yard be? I didn't buy Tinker Bell stepping stones because I didn't know where they would be used. In fact, I weighed the fact that I might move into all my purchasing decisions. I saved some money, but that didn't outweigh the sadness of each decision.
Does this sadness I've been feeling mean that deep inside I have made my decision, that I don't want to move, even if it means losing $40,000 and not receiving any severance. It may mean that I'm just being overly sentimental. I can't be sure. But I know that when I return home, that wonderful word, I will have to decide. But whatever the decision is, I know who will share that home with me.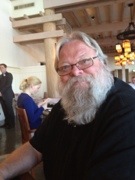 Quote of the Moment:
"Wherever you are, it is your friends who make your world."
by William James