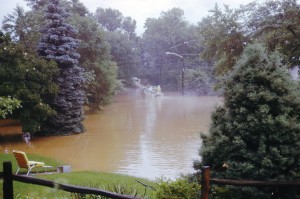 On August 2, 1973, there was a deadly flood in my hometown of North Plainfield, New Jersey. Our house (now my house) was not flooded or damaged, but the major road at the end of my street was flooded to such a degree that people had to be rescued from their homes in boats.    My family and I walked down our street to look at the flood and my father took pictures of the boats and my mother, my sister, and me, in a crowd of people who were also watching the devastation.   On the fortieth anniversary of the flood, August 2, 2013, I posted the pictures to a Facebook page where people share memories of our town.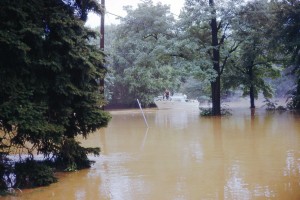 People quickly began commenting on my post.   "I can't believe it's been forty years."   And they shared memories of where they were and how their homes, families, and neighbors had fared.   Classmates of the 15-year old boy who drowned in the flood that day posted heart-breaking remembrances.  I wondered if I should have posted the pictures as they brought back such sad memories. One person posted how his family had lost their car and his father took the two license plates into the auto dealership and said "Now put a car between them."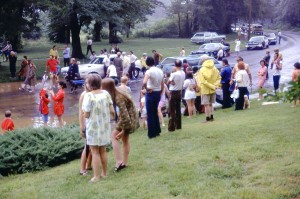 And then the memories became more personal, in a way that they never would have been before social media.   My sister commented that it must have also been mosquito season as the photo had captured her scratching a bite.  And then someone posted her shock that I had a picture of her in-laws and their dog on that day.   She shared the story of how they had been rescued by boat with the dog carried in a tote bag.  And there was the dog, and the tote, and the strangers in the photo were no longer strangers.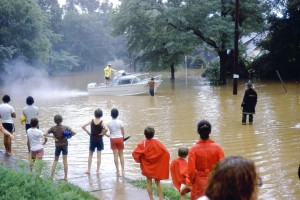 "Those are my kids in the orange jackets" exclaimed another.   And I imagined him sharing the pictures with his now adult children who might not otherwise have had a picture of them on that day.  Another said that her brother, who had died fifteen years later, was the boy with the hand on his hips, standing with his best friend.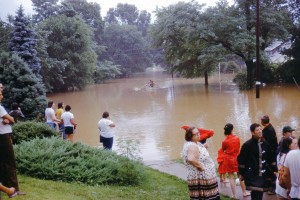 "That's my grandmother in the flowered dress" exclaimed yet another person.   Another person posted the name of the fireman standing guard. My father had taken pictures of my mother, my sister, and me, along with a crowd of people who had also gathered to see the flood and the boats.   But now they were no longer photographs of strangers, every person in the pictures had a story, accidentally captured on film by my father, and through the wonder of social media now had names. They are all forty years older, some have since died, but on that day they gathered together and and are now documented forever on Facebook.
3 Responses to "Every Picture Tells a Story"
Quote of the Moment:
"Every difficulty slurred over will be a ghost to disturb your repose later on."
by Frédéric François Chopin