Archive for the 'Scrapbooking' Category
There is still snow on the ground from the "Blizzard of 2010" and another six to eight inches were added this week.  The snow in our yard is still beautiful, but the plowed snow piles along the streets and in the parking lots have become gray and depressing.   More snow is predicted for this week.  And it is not even midwinter; winter has not even been here a month.
The newness of the year is wearing off  and the resolutions are beginning to wane.   Spring seems so far away, and the activities that usually energize me, such as taking long walks, are not as energizing on icy sidewalks.
So it is time to plan some winter activities, instead of just counting the days until Spring (65).   It's time to dust off the novel I wrote during National Novel Writing month in November and start revising it.  It's time to tackle the backlog of scrapbooking projects and to finish the Lego Carousel that has taken over the kitchen counter.   It's time to look forward to a new season of American Idol starting this week, the return of network TV after the "winter hiatus" and to snuggle up under a throw blanket with a cup of tea and a good book to read.
And to think about how much I will have accomplished when in 65 days I send out my First Day of Spring cards, greet the first crocuses, and welcome Wally, Clarence and Eddie as they emerge from hibernation, instead of just wishing that I could hibernate as well.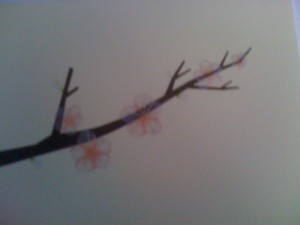 The First Day of Spring has always been my favorite holiday.   Even if the day is not Spring-like, I still celebrate it for the promise of a new season after a dreary winter.   In high school I started sending Happy Spring cards and have faithfully sent them for the last 30 years.   The recipient list has now dwindled to three, but I added my mother this year as she is currently recovering from a broken hip and arm and I wanted to send her as much hope for a new season as I could.   Sometimes I make a card from scratch, using my stash of scrapbooking supplies, but since the first day of Spring falls in the midst of my tax busy season I usually buy a blank note card that symbolizes what Spring means to me.  This year I was so busy that I added to my husband's To-Do List for his day off "Buy Spring cards  (five)."   He rose to the occasion and brought home two sets, so now I have one set aside for next year.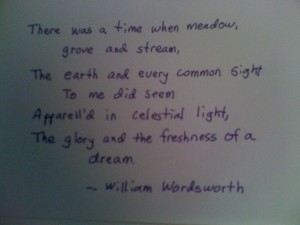 On the inside if the card I always include a quote about Spring, this year's was from William Wordsworth, a quote I found at the beginning of Betsy-Tacy by Maud Hart Lovelace.   Then I hand write "HAPPY SPRING!!" with my attempts to draw some flowers.   The very act of creating the cards and sending them fills me with hope that the season will arrive and that the winter will pass.
At my first year at my current job, I requested a personal day for the Vernal Equinox.   My boss had never had that request before, and he has rarely honored it.   I have found that the years I have had to postpone my celebration, Spring has been delayed, more than the groundhog's predicitions.   It's not nice to fool Mother Nature.
And so I wish you all a Happy Spring and hope that the new season will bring joy and hope.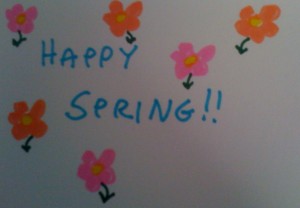 Quote of the Moment:
"I wish I could throw off the thoughts which poison my happiness, and yet I take a kind of pleasure in indulging them."
by Frédéric François Chopin